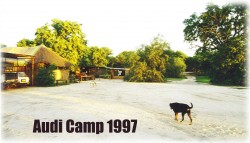 When we first started Audi Camp we had no electricity or phone lines. Electricity was produced with gas, wood fires and paraffin lamps. Phone lines were another problem for which we had to set up an office in Maun for. The interesting thing in those early days was that there were only two lines in and out of Maun, so someone had to be employed to dial out all day in order to get one phone call through to the outside world. Unemployment rose considerably once the new phone system arrived.
In the first few months of Audi's existence we didn't serve food but there was inevitably the hungry backpacker hanging around so a pot of whatever would be put on the fire and customers would be required to bring their own plates and utensils and wash up afterwards. No one seemed to mind and no complaints about the food or service.
Jack and Eve Drew were our managers at this stage. They lived in a caravan on the property and were paid with beer and food. Jack had an old blue pick up in which he used to prowl the streets of Maun pouncing on anyone looking vaguely like a backpacker, load them in the back and deliver them to Audi. When we started doing Mokoro trips out to Morutsa, a village in the Okavango Delta, this blue pick up was the transfer vehicle. Nobody seemed to mind, they would hop in the back and off they'd go. On occasions we would get too many people for Jacks pick up, we would then borrowed a friend's old Land Cruiser which went by the name of Matilda. The reason for this name was that she had a tendency to waltz. You would be going along quite happily and she would suddenly take off in another direction and then waltz her way back into the track. We still have Matilda but don't use her for trips anymore; I don't think people are quite as forgiving these days.
In these early days, believe it or not, we could drink the water out of the Okavango Delta so we never advised people to take drinking water with them. Nowadays you need an extra mokoro just for all the bottles of water. I remember a French group who spent two days out there and came back furious and in a bad way, they had not drunk anything for two days, reason, they could not find the tap!
Categorised in: Uncategorized